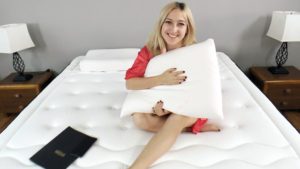 Memory foam is applied to many different products in the world today and so will we at European Home Products do the same for your personal mattress. Finding your comfy place to sleep at will not be an issue anymore as the mattress will, as the name implies, memorise your sleeping position, and alleviate the pressure points while laying on it. This is both a comfortable as a health benefit and will severely challenge the common "I slept in the wrong position" issue.
How our Memory Foam Mattress is Made
Memory foam mattress assembly usually involves a few basic steps. The base of every memory foam mattress is regular polyurethane, which is referred to as the "core" or support layer. The actual memory foam layers and any other padding layers are set above the core, and attached to one another using adhesive (which will vary by manufacturer).
The entire mattress is then covered with a flame resistant fabric barrier sock to meet federal safety regulations (manufacturers may also use spray chemicals or mix additives in with the foam to achieve fire resistance as well). The mattress then receives a finished cover to complete its appearance.
True Innovation & Comfort
The production of memory foam is a complex process that has been improved and perfected over the past 20 plus years. Since the introduction of memory foam mattresses, the category has continued gaining popularity with consumers due to the unparalleled pressure relief and supportive benefits it offers. These unique properties are the result of time-intensive, complex process that is as interesting as the final product. Now you know the basics of how memory foam mattress manufacturing works, from its beginnings in chemistry to its arrival on your doorstep!
Eco-Friendly Shipping
Once the finished memory foam mattress is ready, it is then vacuum-sealed, compressed, rolled and packaged. This method allows the mattress to ship via regular courier rather than freight, which reduces fuel consumption. The compressed size also makes it easier to move the mattress into your home.